I totally didn't need this guitar, but I love my burst so much as a studio player, that when I spotted this thing in such a cheap auction I had to pounce.
I already have the sunburst HIIN OT from 1972 in birch, in rare hardtail. There's a few HIIN's sitting up on verb and eBay, and they range in price from just shy of $1900, to just shy of 800.
I spotted the auction on this a week or so before sunday, and kept an eye on it because it looked like few people picked up that it was there. Bidding ended this past sunday at 9pm. I would check back in on it and it would creep up 20 bucks or so. . . by the time Sunday 8:30pm rolled around it had ticked up only to just shy of FOUR HUNDRED!. I jumped in by the last couple of minutes and started warring with 7 other bidders with new bids flying in rapid fire over the past sixty seconds. Just by dint of how late it took for the real people who recognized the guitar for what it was to start doing battle (or we all thought we were slick at the same time and waited, thinking nobody else was looking and that we'd get the axe for almost nothing), by the time our bid war ended in those final seconds, my last opportunity to bid-- at 460 dollars-- was it.
485 delivered from PA to here on my job... unfreakinbelievable, and with the original chipboard case, which you never ever see. This thin is all original, in great shape. It totally smells like "musty basement." Like, someone bought the guitar in their teenage years, or they got it as a gift, never learned to play, and it sat in the basement for decades. The case is soaked with that smell. The Braz rosewood board is dying of thirst, needs oil badly. But like all Hags, the neck is dead straight, right on and rock solid.
For some reason the passage of time has made this super cool cherry color look almost like a burst in the center, into a lighter rose color. This guitar is such a cool score, it's rare arctic birch in cherry, usually the cherry HIIN's were made of honduran mahog.
Here she is: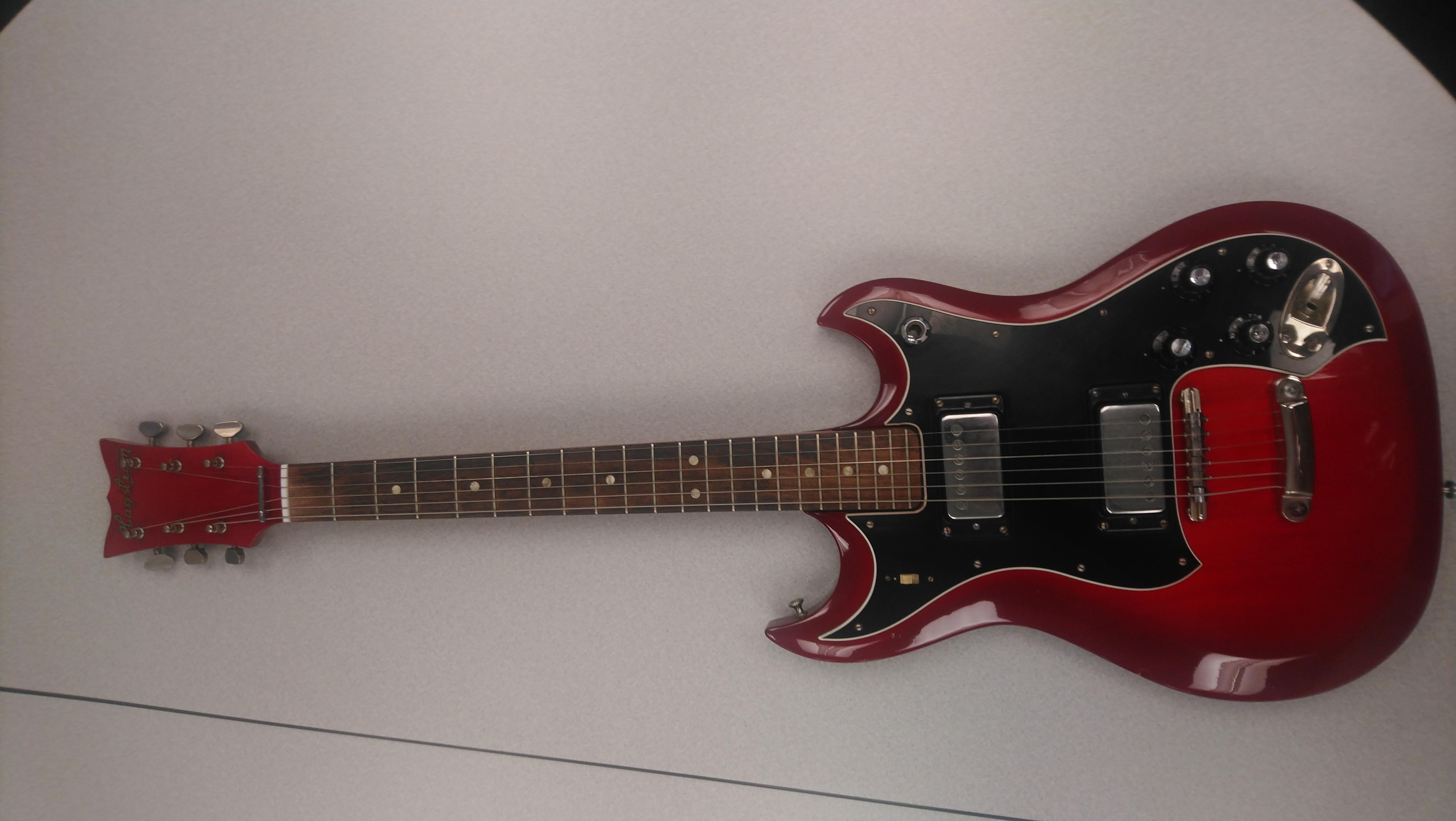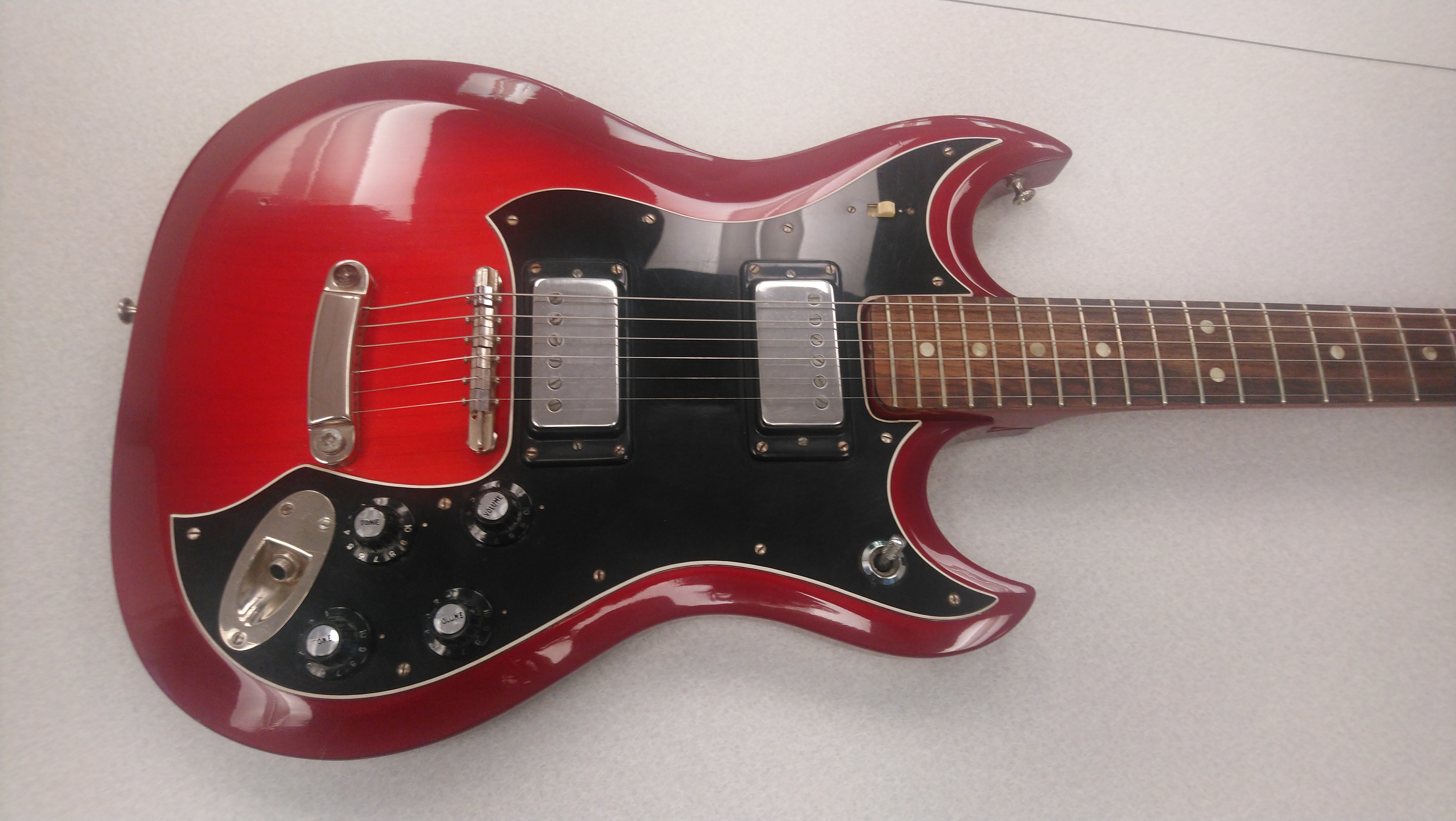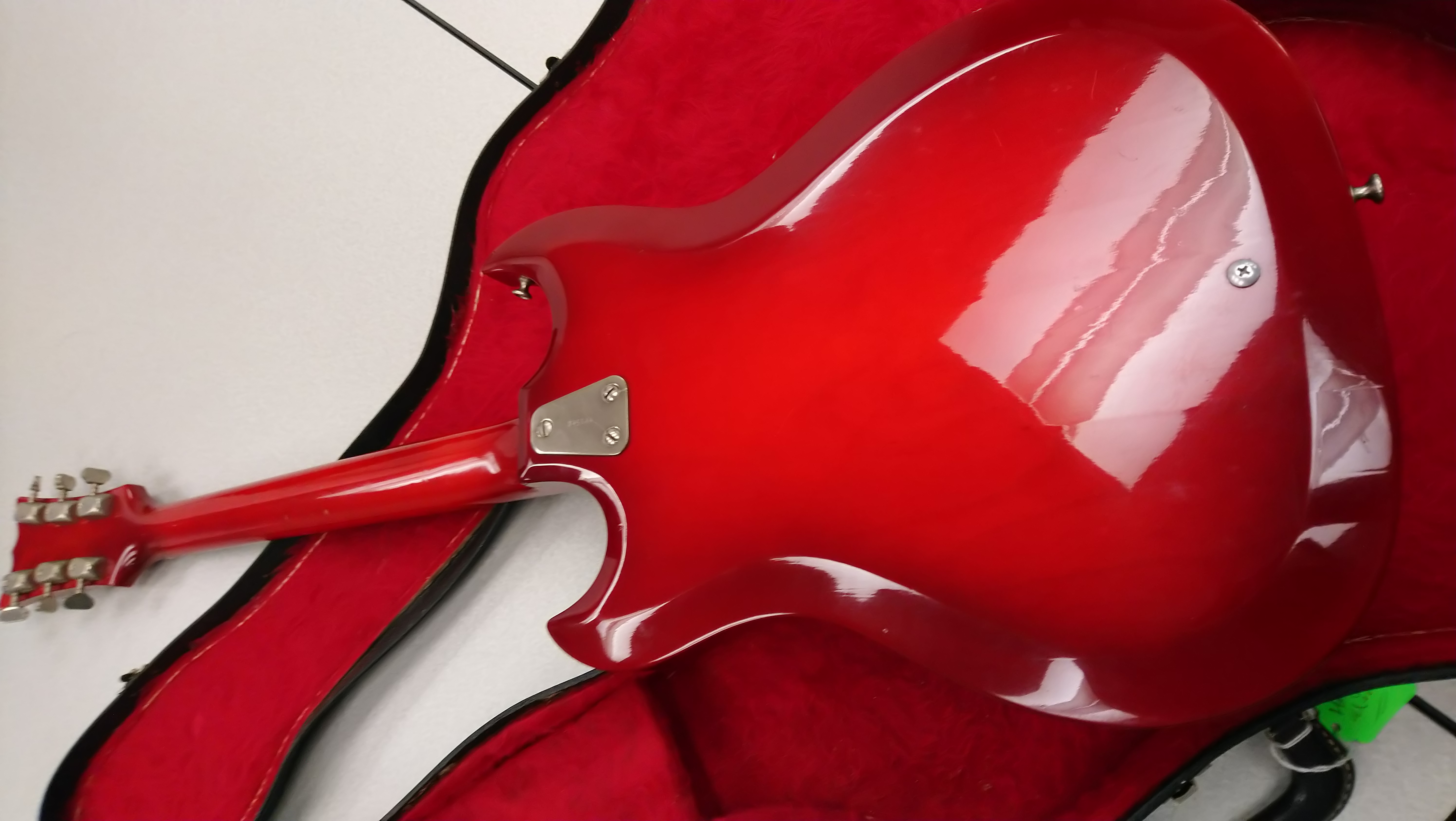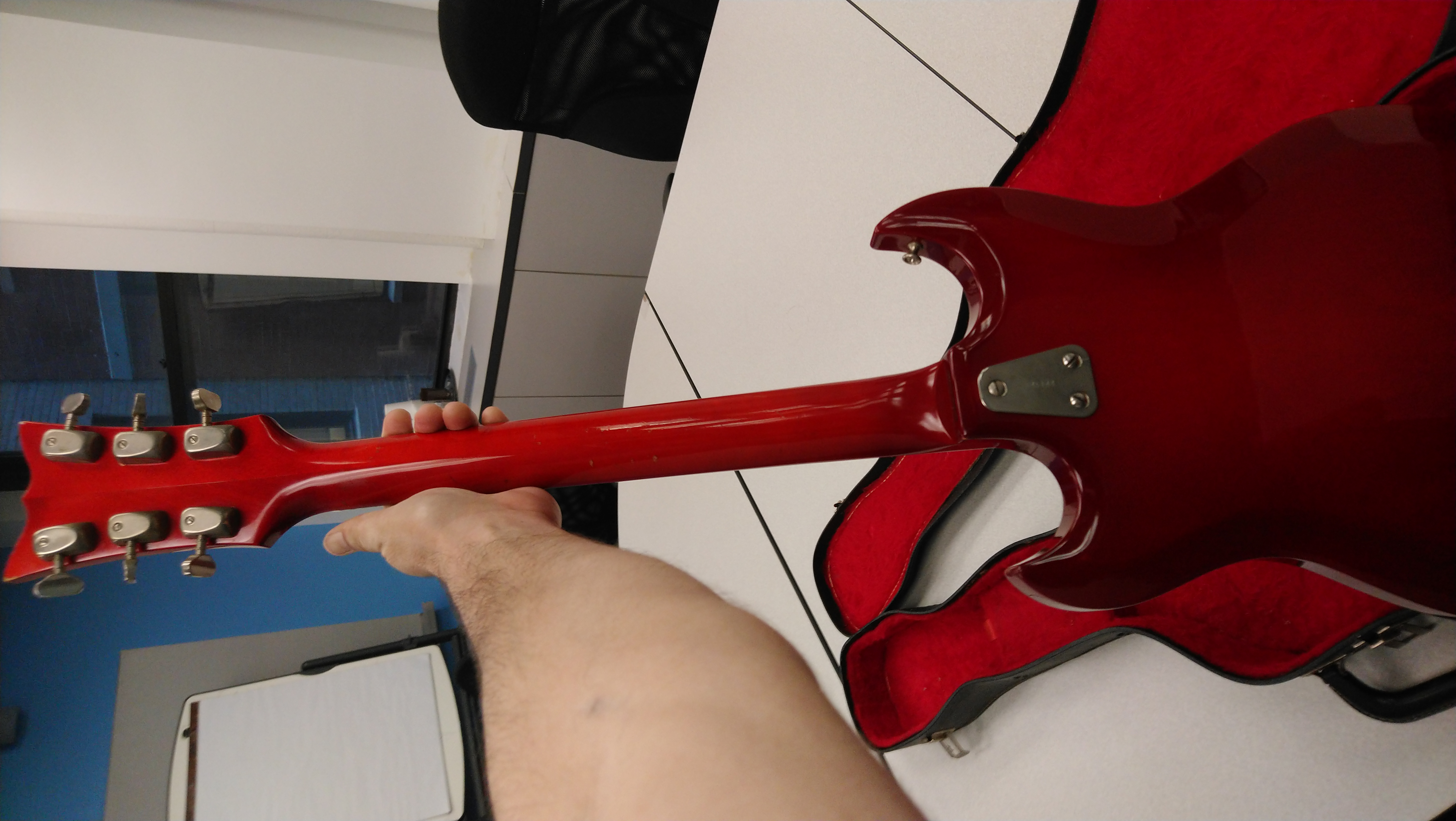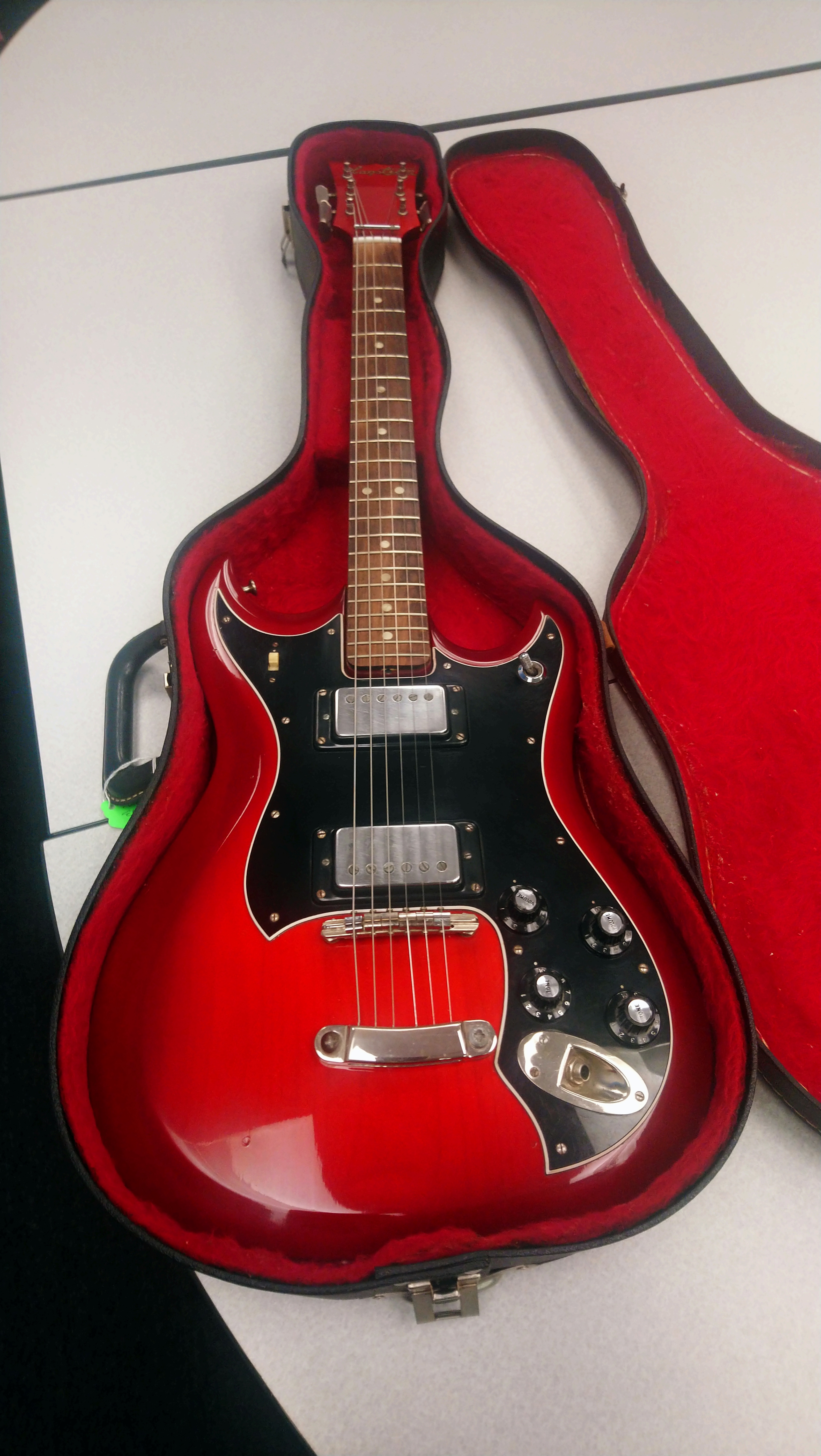 Everything is 1000% original. The stoptail string space staggering looks off because there's two holes for each string since these are good for a 12 string w 12 holes. He just threaded them in unevenly.