Original thread:
http://www.carvinbbs.com/viewtopic.php?t=41696
So this has been a long time in the making. I'm going to tell a story guys.
I got back into guitar playing about two years ago, after a decade of probably touching a guitar once every 3-4 months. I went to college, got a job, had kids, loved gaming, all kinds of other things. Then that Rocksmith game came out. I'm a gamer, and a wannabe musicians. I loved Guitar Hero, it was fun if simple. I'm not particularly good even now, and I barely know any songs, but I'm miles ahead of where I was when I got back into things, and I can play some of the slower leads of my favorites.
So I got back into things. Practiced a bunch, first with the game and later back to learning by ear and tab. Ended up buying several Ibanez guitars, standard RG models, but became aware of Carvin through SSO. I made some posts here, got some photoshops done, but the money wasn't there, my head wasn't there yet.
This summer I decided, I want it. I'm doing it for me. I've stopped a lot of my gaming (Warcraft addict for a long time), gonna sell a bunch of these Ibanez's, and do it. But what? Then Jeff releases the SCB6. I want this. I'm thinking dragon burst quilt or something like that. But I keep coming back to the DC400W. Man, that thing was classy. SCB6... DC400W style. I started talking to Jeff about it on Facebook. I'm pretty picky about the top, Jeff promises to hand pick it. I had that specific look in mind you know? Claro comes in all shapes and figures. I replaced the DC400W's standard 5-pc maple/walnut neck with a 5-pc walnut/koa to darken it up the way I like. Evster got me a mockup that was awesome. Jeff is into it, takes my order personally, and away we go. After that Mike and Chris both helped me out with checking on the order and a few updates along the way.
So here's the specs guys:
SCB6S - Single Cut Bevel Top w/ Tune of Matic Stoptail
3PB - 3 piece laminated body, alder center
FW - Figured Walnut Top
WAL - Walnut body wings
5WK - 5-piece Walnut w/ Koa stripes
HR33 - Reverse Pointed 3+3 headstock
FWPH - Figured Walnut Headstock
EFB - Ebony fretboard, Black
AB - Abalone block inlays
STJF - Stainless Steel Jumbo Fret
35 - M22SD Bridge
43 - M22N Neck
MR - Black mounting rings
VT2 - 2 vol, 2 tone, coil taps
G - Gold Hardware
GL - Gold logo
34 - Phase switch (Push/pull on bridge volume)
Mike Jones has good photos. Hopefully he'll dump them on us. Here's my bad cellphone photos:
THE BOX: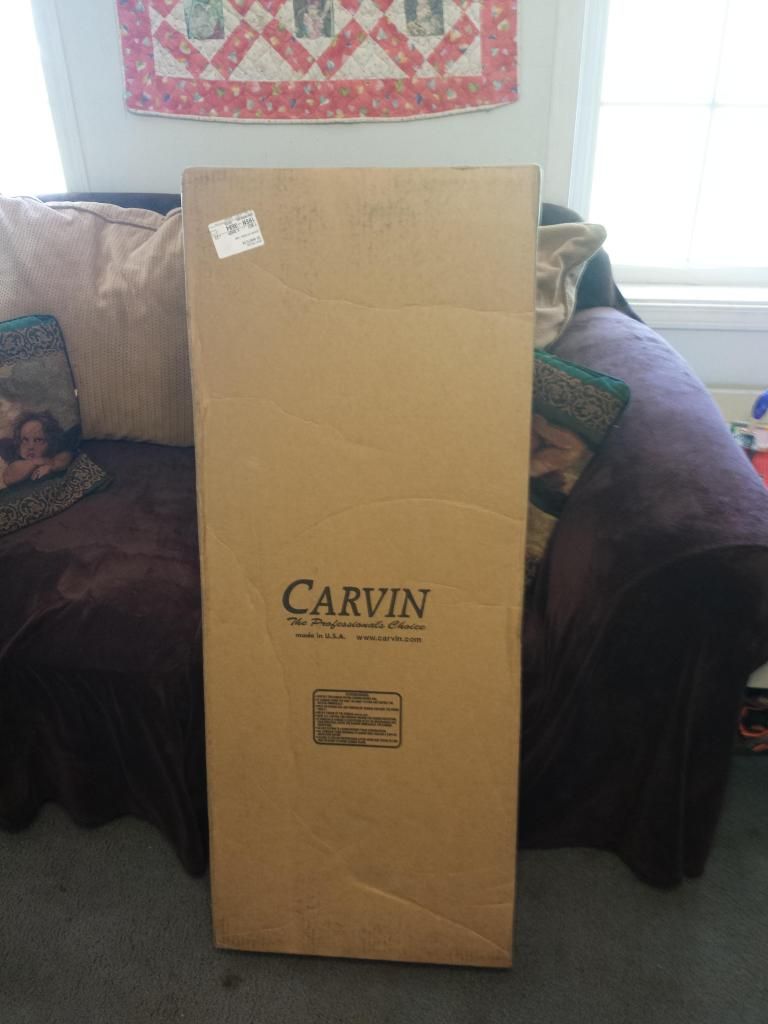 Finding the right tool for the job: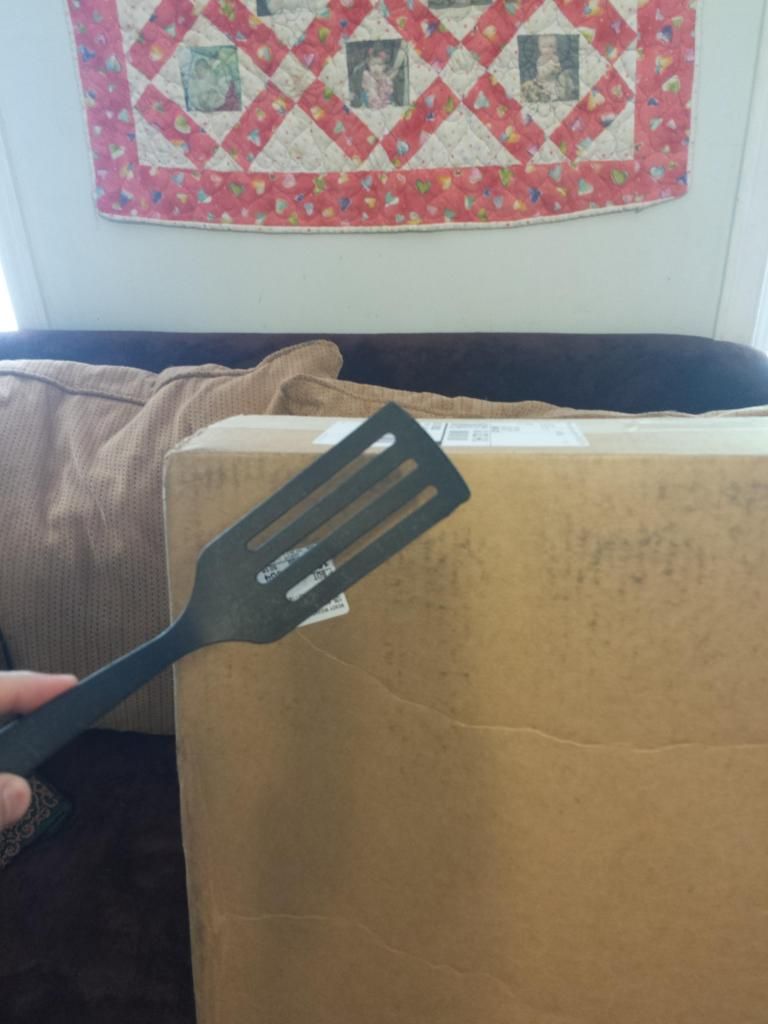 Nope: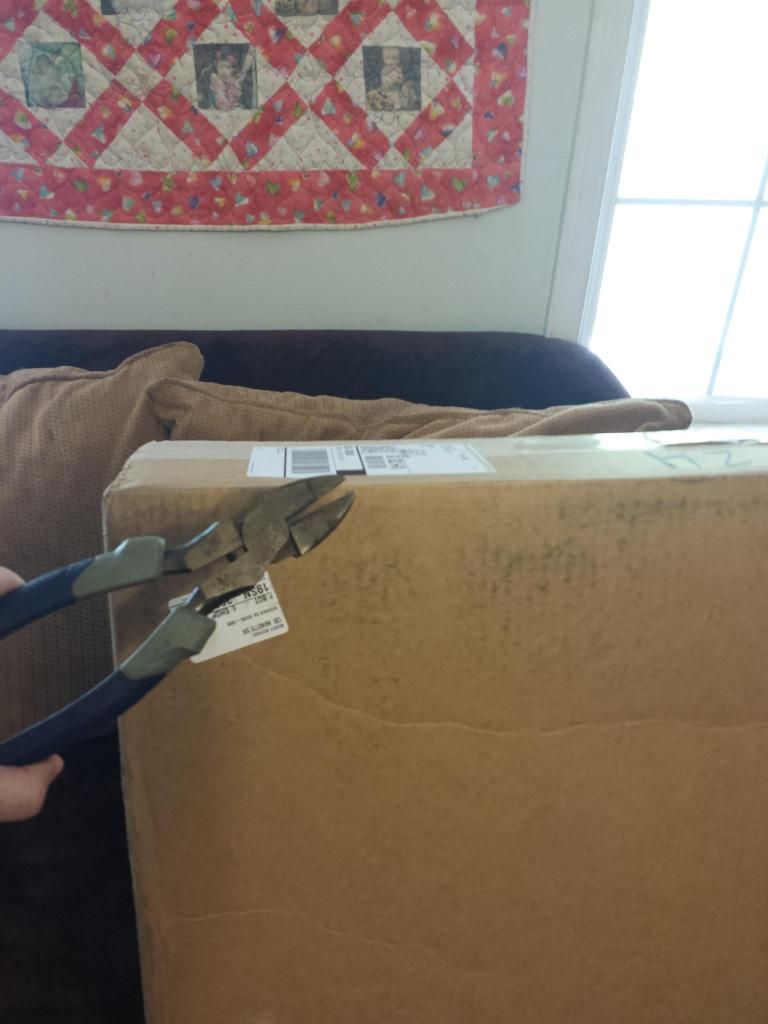 Closer: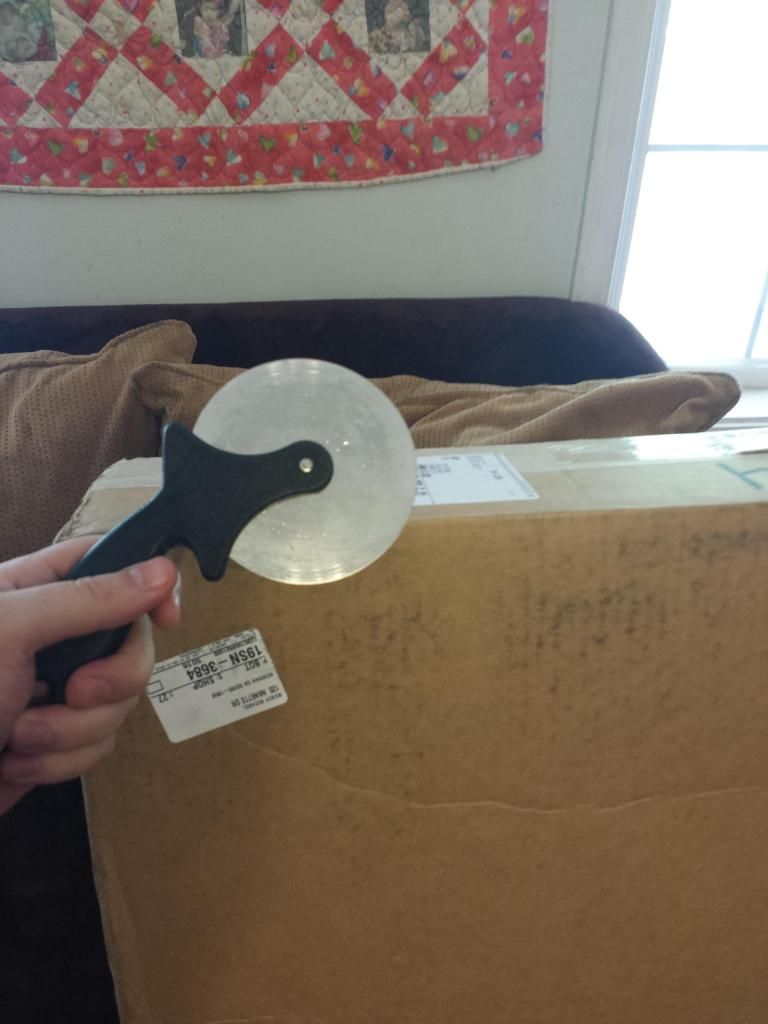 This should do: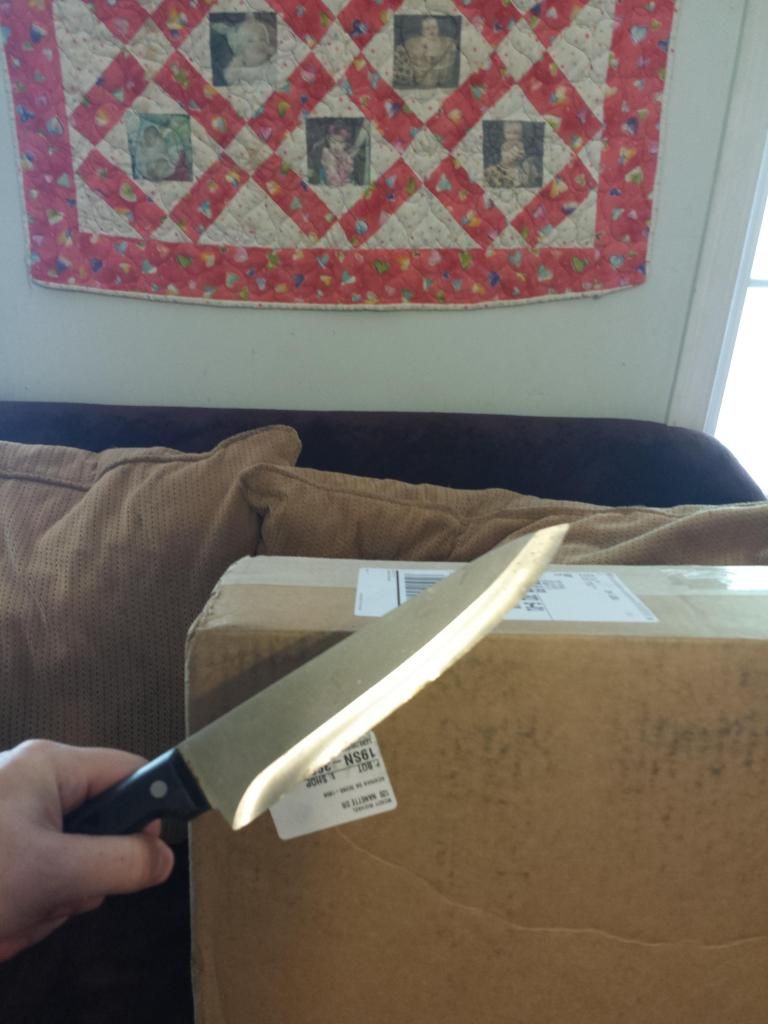 Tweed is so so so classy: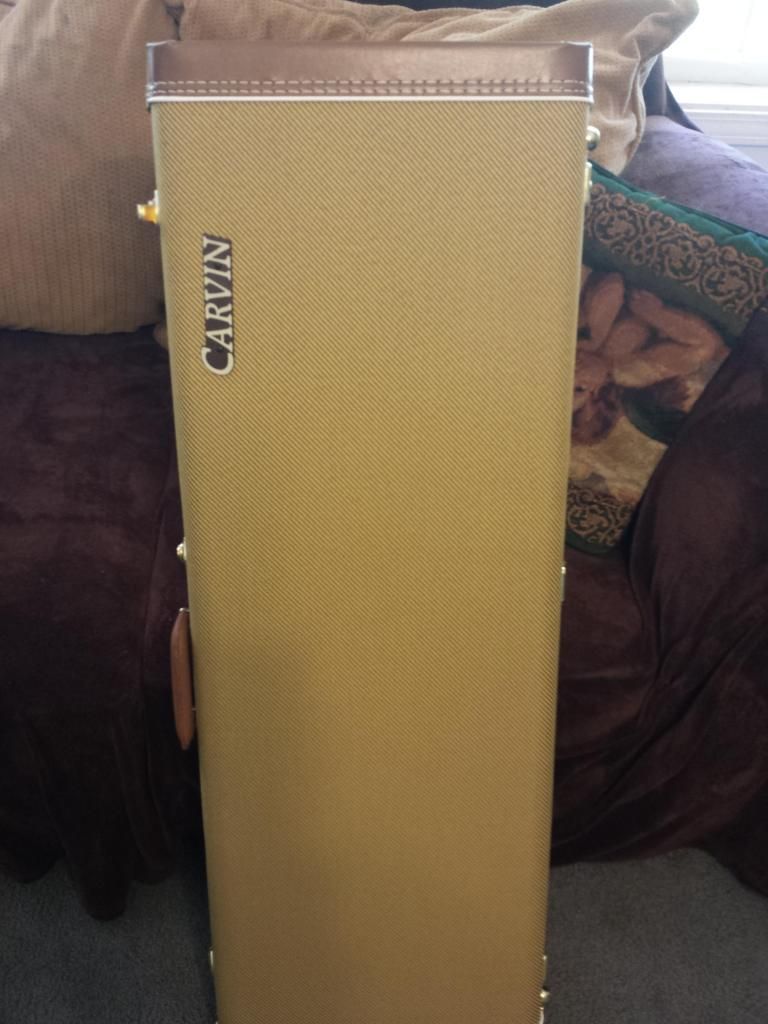 Case candy and all:
Indoors!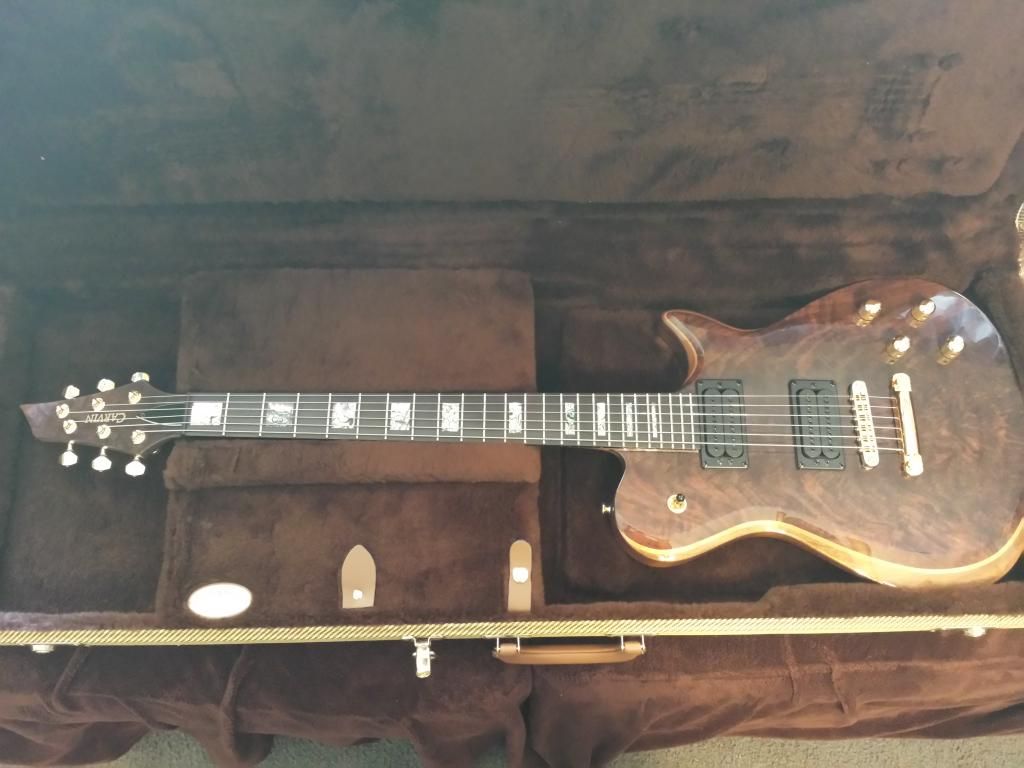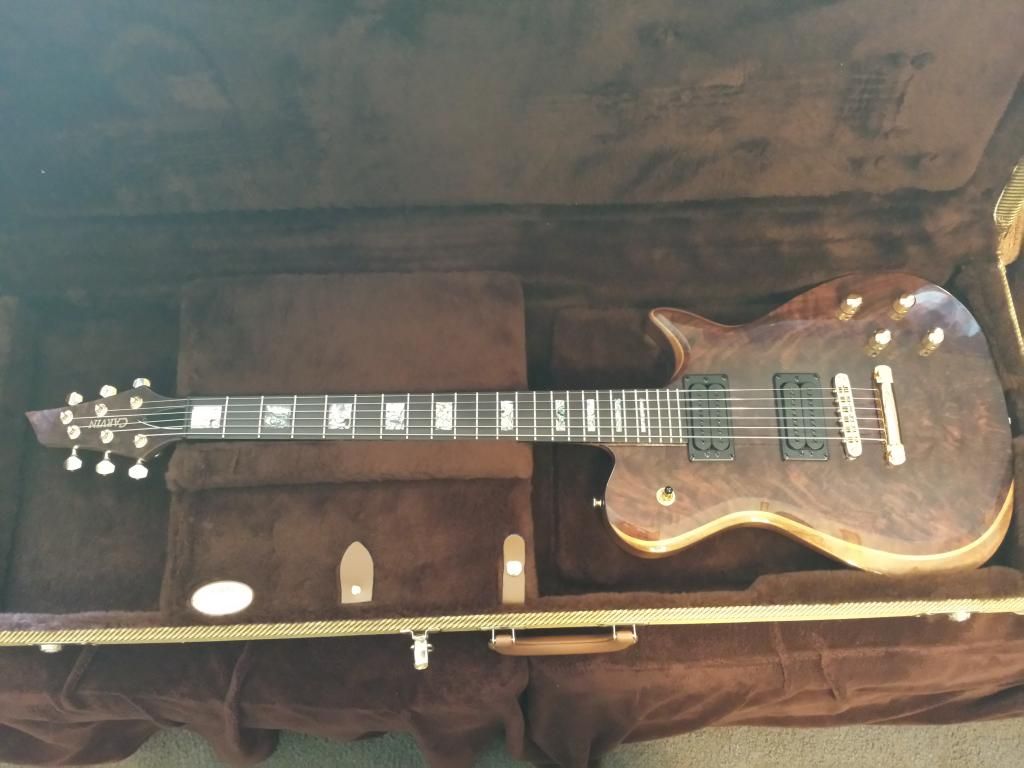 Headstock!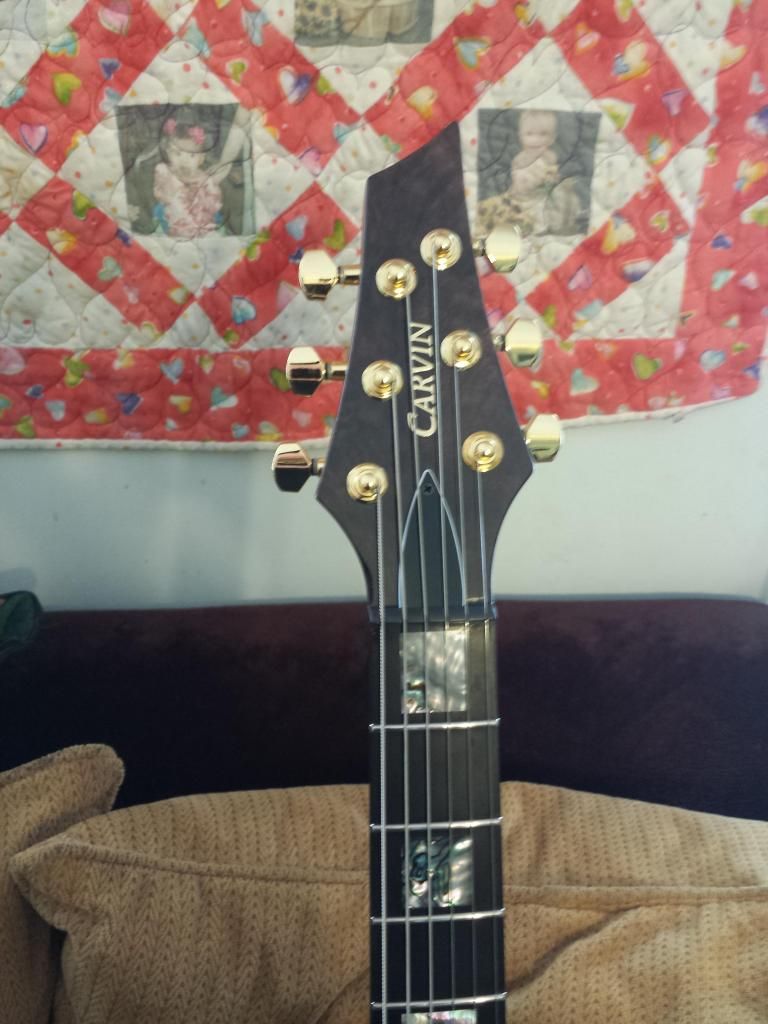 Top!
Fretboard!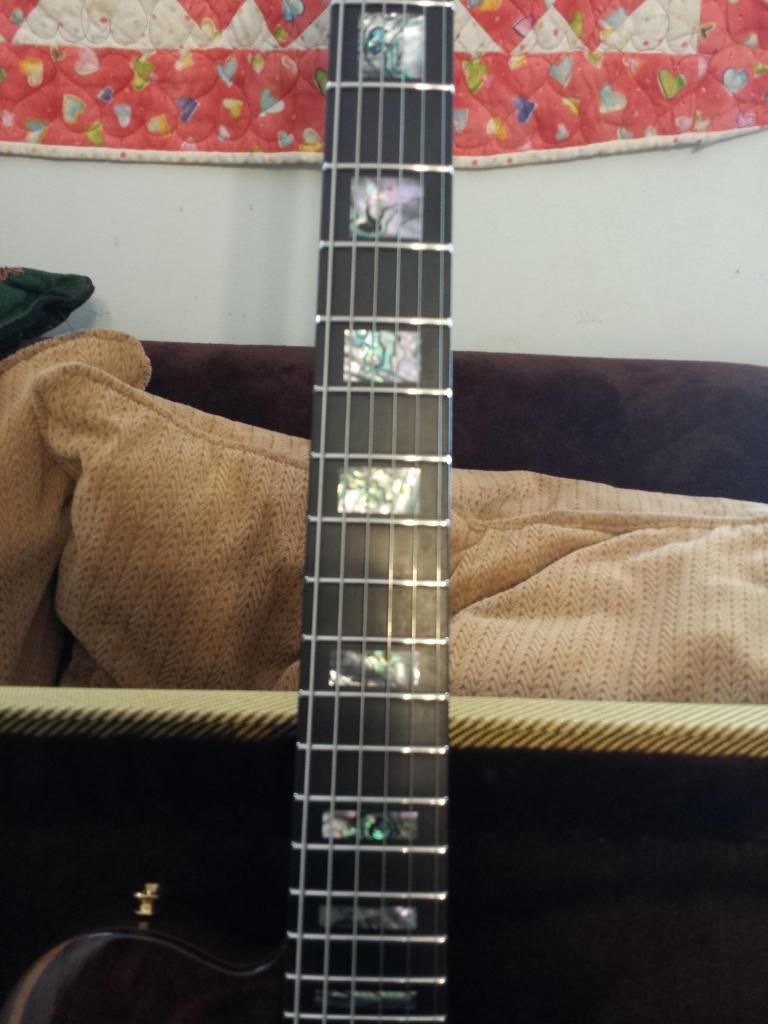 DAT BACK:
Back of the neck, guest starring Loki the Maine Coon: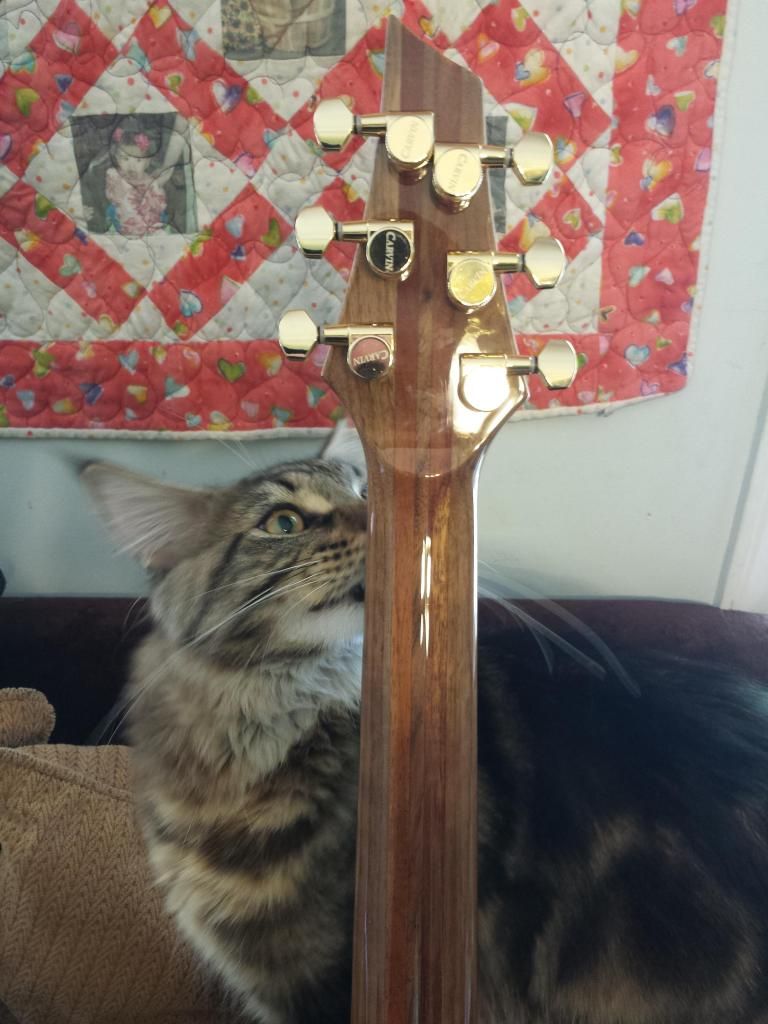 From the top!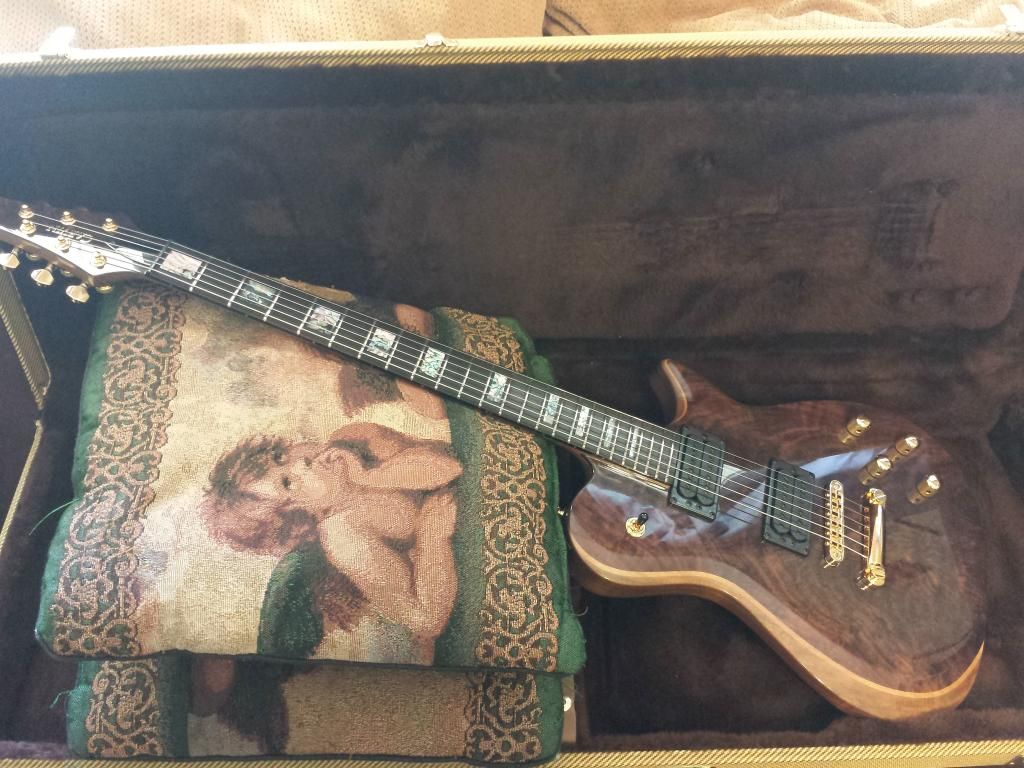 From the bottom!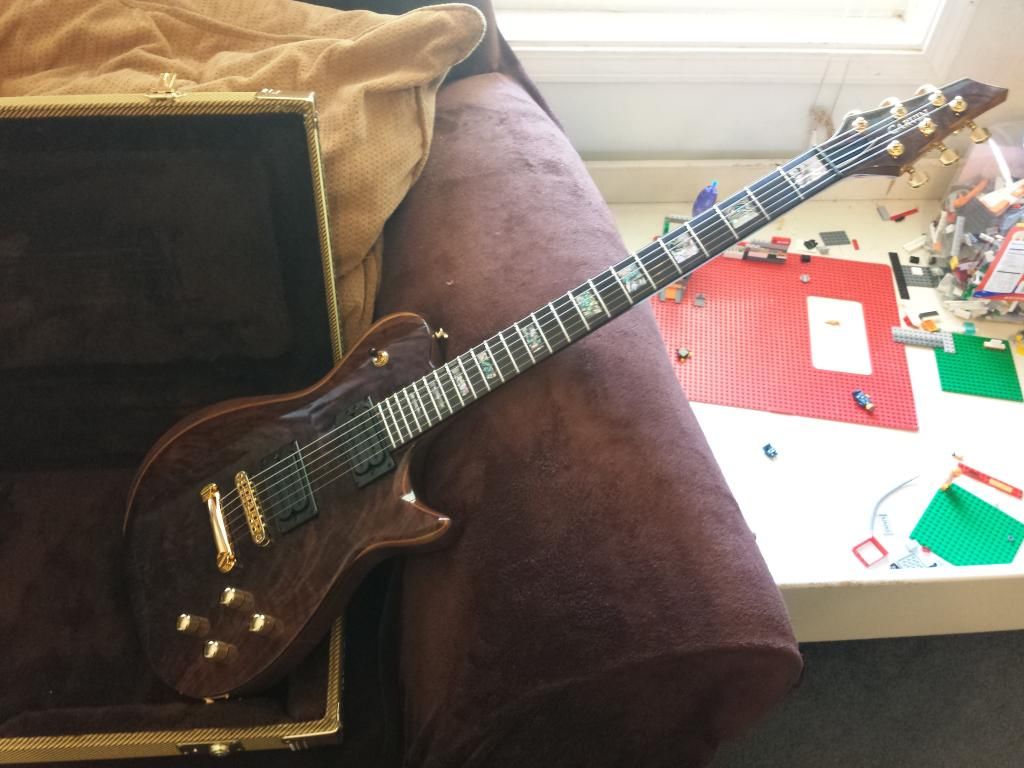 SUNLIGHT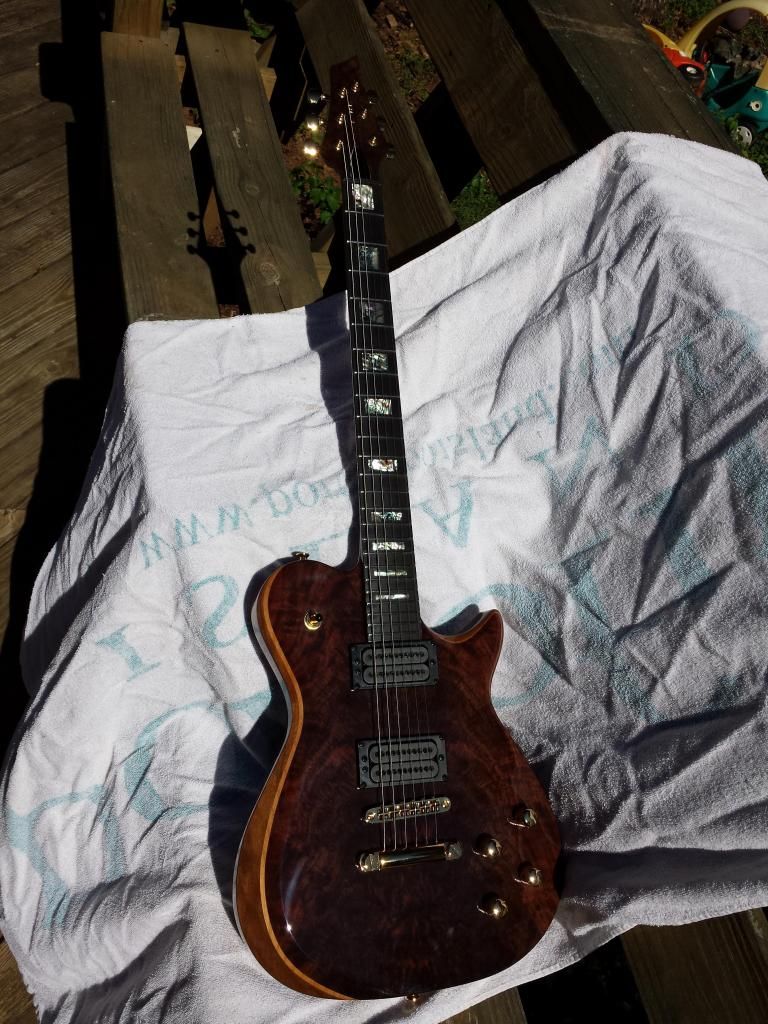 DAT TOP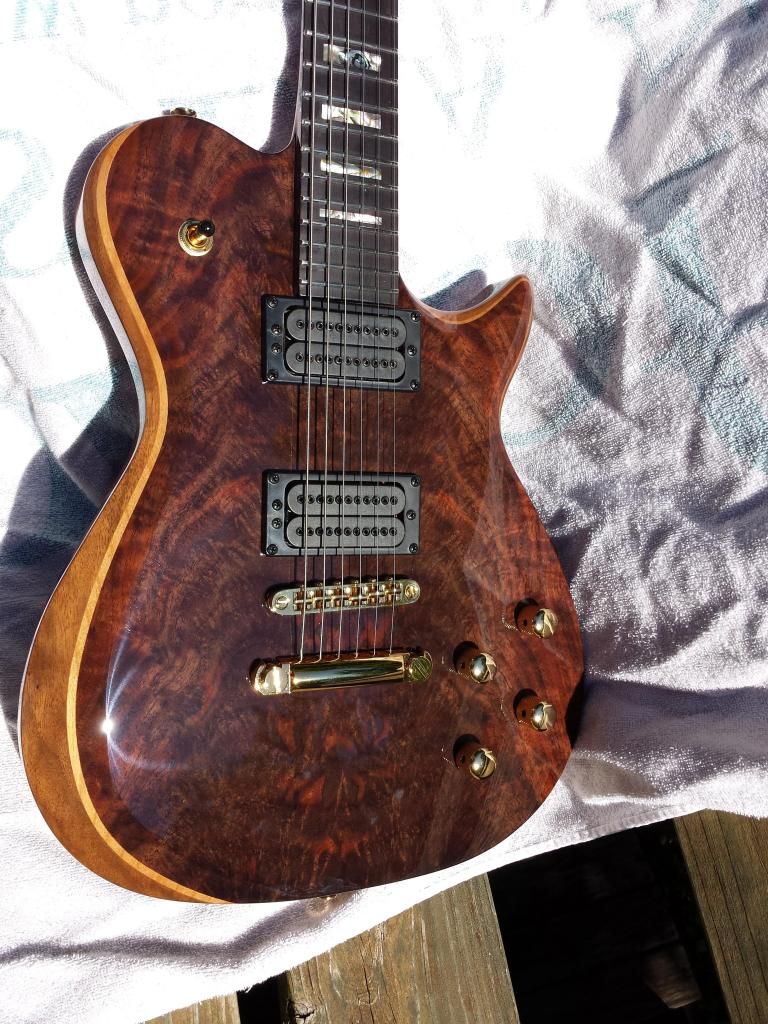 Headstock in the Sun!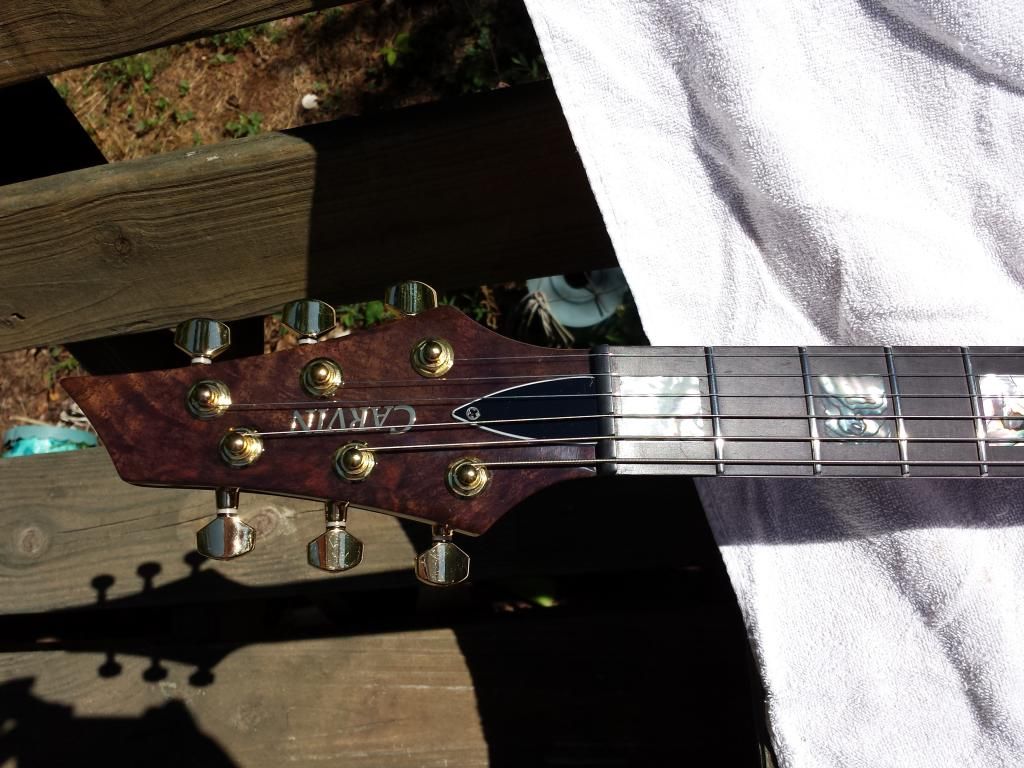 The Koa Pops!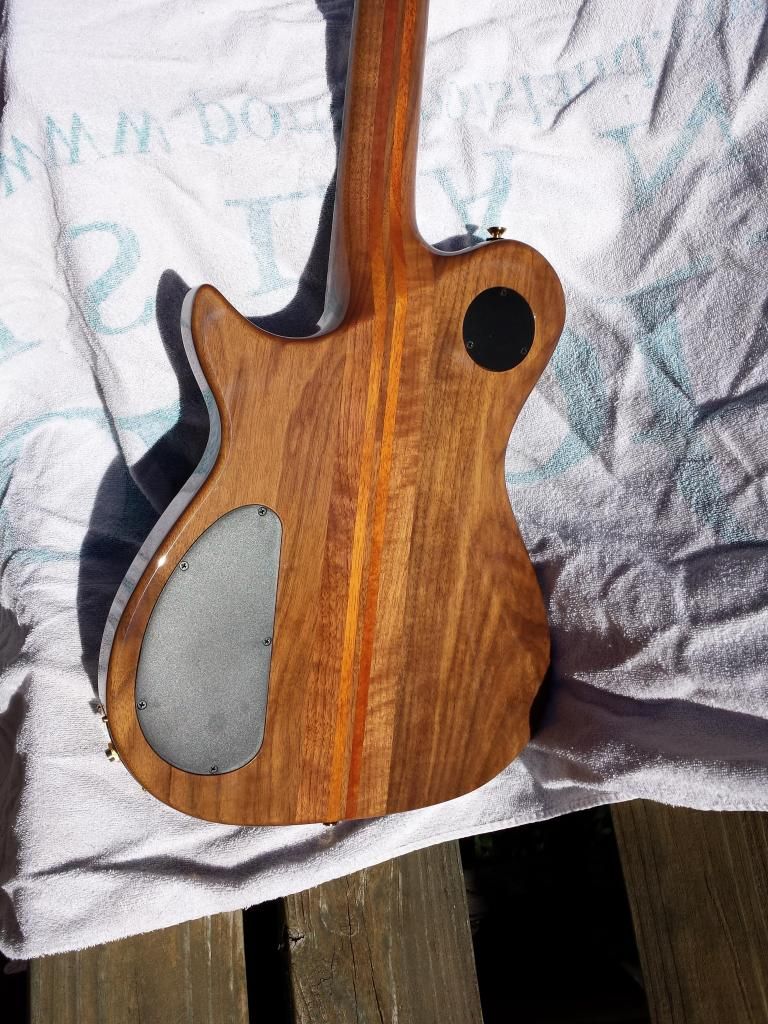 Yes, Yes, Koa Neck Stripes was the Right Choice
Gallery:
http://s1294.photobucket.com/user/ferre ... t=3&page=1
I played for about 30 minutes before sorting through my bad cellphone photos to post this. I'm sure it's a LITTLE BIT in my head, but I've never played so effortlessly, never heard such a clean smooth tone. Notes that squeak just a bit or ring off just a bit on my cheaper Ibanez... Perfect on Carvin. I have wall hangers and I'm really debating if I'll use them, this baby may stay in case all the time when I'm not playing. With the coil taps and the phase, I've got a LOT of options here.
As far as the top goes, my one perfect vision that had to be JUST RIGHT. The color of the claro is exactly what I was after. The DC400 I feel is all about the contrast of the black walnut body wings and the darker, richer color of the claro walnut top. The figuring is almost a perfect match in my mind's eye vision. Not exactly, perhaps just a little ... flamey-er?... than I envisioned, but I'm super happy with it all the same.
While I love Carvin and am very very happy with this guitar, I do have a couple notes to mention that weren't exactly perfect. Beware, perfectionist style minor things follow, but I think it's only fair.. - Like some others have reported recently, the locks on the tuners weren't snug. It's been mentioned enough that I checked it right away and tightened them. There is also an abalone inlay (Fret 17) that has a small divot in it. I don't think it'll ever cause a problem though. I believe there's a small ... nick.. on the upper edge of the body, but it's under the clear coat.
Finally, and least of all, I had meant to get a Carvin strap for this and apparently totally forgot to make sure it was on the invoice. I stole a strap from another guitar, since it won't be used ANY TIME SOON.
ferret wrote:Be gentle.

So I wanted to demo tone just a bit. I set the amp across the board to middle positions so that (in theory) we're hearing the guitar and the M22s. Just stuck to going up and down blues scale with a few chords. I'm sloppy, I know, strings ringing out. I had a bit too much gain on the clean channel still, but... eh. This is my tablet recording. The amp is a Blackstar ID:60. I don't ever record so ...

Order of pickups/coils/etc:

Bridge

Bridge + Neck

Neck

Bridge (Tapped)

Neck (Tapped)

Bridge (Tapped) + Neck

Bridge + Neck (Tapped)

Bridge (Tapped) + Neck (Tapped)

Bridge + Neck, phase switch

Bridge + Neck

Bridge (Super Crunch channel)

Bridge + Neck (Crunch)

Neck (Crunch)

Bridge (Tapped) (Crunch)

Neck (Tapped) (Crunch)

Bridge (Tapped) + Neck (Crunch) (I think)

Bridge + Neck, phase switch (Crunch) (I think)

Bridge (OD channel)

I got sloppier as I went sorry, I'm terribly shy at this.

https://www.youtube.com/watch?v=EarQEAUKS04
ferret wrote:New photos! Bit cloudy but better focus and higher def! And some new angles. I may sure to get some side-body shots to show the 3 piece body a bit better.

My fretboard is already a bit gunky

I've got really sweaty hands, but I've taken a lot of care to wash hands every time I touch this baby and full wipe down after use. Strings look pretty good for me actually, normally they're black within like 2 days on my cheap Ibanez I care less about.